Medical Welfare Course
(1 year)
Aiming to enroll in medical university or vocational college to get a license and work in Japan.
This is 1 year course for students who are planning to go on to the medical school in Japan. Students need at least N4 Japanese Language Proficiency Test (JLPT) level in your own country.
Aim to pass N1~N2 of the Japanese Language Proficiency Test(JLPT)
Learning medical in Japan
Foreigners might think it is hard for international students to enroll in medical schools. But it is same for Japanese students as well. Most of students planning to go to medical schools don't have knowledge in medical fields. Only medical terminology is difficult for foreigners. That is way this class will learn basic medical terminology.
Curriculum / Timetable
Time
Monday
Tuesday
Wednesday
Thursday
Friday
Saturday
1 period
9:00 ~ 9:45
comprehensive Japanese
tutorial
13:00 ~ 13:45
2 period
9:55 ~ 10:40
13:55 ~ 14:40
3 period
10:50 ~ 11:35
writing
listening
comprehension
vocabulary
grammar
listening
comprehension
14:50 ~ 15:35
4 period
11:45 ~ 12:30
creation
strategy
reading
comprehension
grammar
Fast reading
15:45 ~ 16:30
5 period
13:00 ~ 14:30
Prepare class
for N3
(elective)
Prepare class
for N2
(elective)
Prepare class
for N1
(elective)
Prepare class
for EJU
(elective)
Prepare class
for essay
(elective)
16:50 ~ 18:20
Saturday class is only once a month.
There are morning class and afternoon class.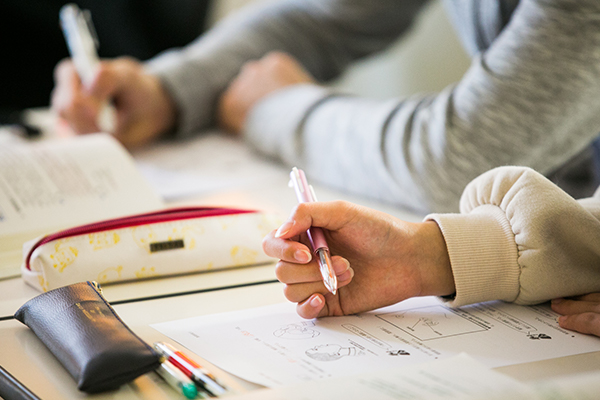 Tutorial
In tutorial, students will learn words and kanji needed in medical fields, and basic knowledge needed to work in medical facilities.
Message from Graduates
LUU NGUYEN ANH THU

Higashi Osaka University Junior College Department of Nursing and Welfare→ Employment at Nursing facility

I decided my career path through personal counseling with my teacher. Even after deciding the school, I am very grateful that the teacher has kindly supported me from how to write the application to the interview practice and the admission procedure after passing the exam. Currently, I was able to get a job at a long-term care facility. The work is challenging but I feel very happy and even more motivated when people appreciate what I did for them.

TAMANG BINA

Osaka College of professional caregiving Community care department

I went to HEISEI with working part time job at nursing facility. They were students who was working at nursing facility as same as me. I was able to study hard with the same goal. At HEISEI, I made many friends who came from different countries, and I was able to enjoy learning. I want to make effort to become a care worker.

DINH THI HUYEN TRANG

Takarazuka University of Medical and Health Care Nursing welfare Program

At HEISEI, there are speech competitions and presentation classes using a computer, so I was able to improve my Japanese. In order to become a caregiver, I entered the Nursing welfare Program at HEISEI's sister school, Takarazuka Medical University. The location of the school is close to HEISEI, so I didn't have to change the way to go to school.
After graduation
College Student

To go on to University or College

Some students go on to school to learn more knowledge and skill which are necessary to work to get a license.

Dental Hygienist

Dental Hygienist

Works with a dentist and cleans people's teeth or gives them advice about how to look after their teeth to provide full oral health care.

Physical Therapist

Physiotherapy

Under doctor instructions, using mechanical force and movements, manual therapy, exercise therapy, and electrotherapy, remediates impairments and promotes mobility and function. It is used to improve a patient's quality of life through examination, diagnosis, prognosis, and physical intervention.

Nurse

Nurse

Health care sector focused on the care of individuals, families, and communities so they may attain, maintain, or recover optimal health and quality of life. In Japan, doctor, dentist, nurse, and assistant nurse are the only profession that can fulfilled that support.

Care Worker

Caregiver

Basically, a career that supports people who in need of nursing care. Not only physical assistance, but also support in daily life and emotional support.
Support from
Heisei iryo group schools!